Creating Natural Beauty through Body Art

Catherine is a qualified Cosmetic Tattooist and has completed all aspects of facial tattooing at advanced levels.
She is a registered member of the "Association of Cosmetic Tattoo".
Catherine's artistic skills consists of symmetry, perfection and technical understanding of colour application due to her natural ability as a practicing Fine Arts Artist, where she  excelled in portrait painting and drawing.
Catherine has had 38yrs experience in the hairdressing industry as an award winning internationally trained stylist and is an experienced and educated makeup artist.
It is now your decision to pursue the convenience of beautiful, natural semi permanent makeup.
Consultation essential.
For appointments contact Lady Ink on
0418 650 288 or visit www.ladyinkcosmetictattoo.com.au
Cosmetic Tattooing Performed by Qualified Technician
Who are  Permanent Cosmetic clients?  Those who:
Wear contact lenses or glasses
Feel washed out without makeup
Are active in sports
Have eyes that tear frequently or oily skin
Are not artistic or skilled in applying makeup
Have problems seeing objects at close range
Are time poor or couldn't be bothered applying makeup
Professionals who require high presentation 24/7
Shaky hands or a disability that limits ability to apply makeup
Have allergies to ordinary cosmetics
Would like or need Facial enhancements e.g. beauty spots, lip or brow correction, eye lash enhancement, eyeliner enhancement
Suffer from Alopecia, brow or eyelash hair loss or thinning.
Special Offers
Hairstroke Eyebrows, Designer Eyeliner and Lash enhancer. Lip liner, Lip Blend or Full Lip
For Special Offers contact "Lady Ink" on
0418 650 288 or "Bella Hair Richmond"
Senior Discounts available. Conditions apply.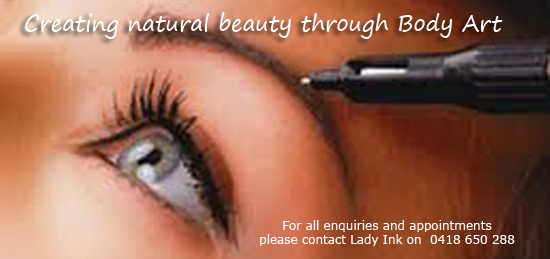 Eyebrow Correction Available and Includes
Correct grey or purple/red eyebrows to a brown.
Previously tattooed eyebrows that are too dark can be lightened
Previously tattooed eyebrows that were too large or small can be corrected or modified.